After that dazzling appearance at Indian Sports Honours with husband Virat Kohli on Thursday, Anushka Sharma attended another event in Mumbai on Friday, albeit a bit more solo this time. She was seen at the Bollywood Hungama Style Icon Awards in a beautiful dress, posing for the paparazzi.
Anushka wore a black, tailored dress to the event and paired it with an impressive Serpenti necklace from Bulgari. As she arrived on the red carpet, the photographers started screaming her name and calling her 'Mrs Kohli'.
The actor laughed at their antics and said, "Relax! Why are you all shouting? Wait! Mere kaan (my ears)… I have not recovered from the shouting from yesterday." When the photographers said that they missed her at such events, she laughed and said 'mere kaan bajj rahe hai (my ears are ringing)."
Also at the event, Anushka met Varun Dhawan and Kriti Sanon at the red carpet. All three posed together and Anushka even gave Kriti a tight hug.
Anushka and Virat looked like the perfect couple on Thursday's event. Virat was dressed in a black suit while Anushka wore a purple dress with black details. They met Ranveer Singh-Deepika Padukone, Angad Bedi-Neha Dhupia at the event as well.
Anushka Sharma and Virat Kohli on Wednesday announced the merger of their respective foundations and launched a new initiative, called SeVVA. In a joint statement, the Bollywood star and Indian cricketer said the new initiative will help people in need and is not confined to any particular cause.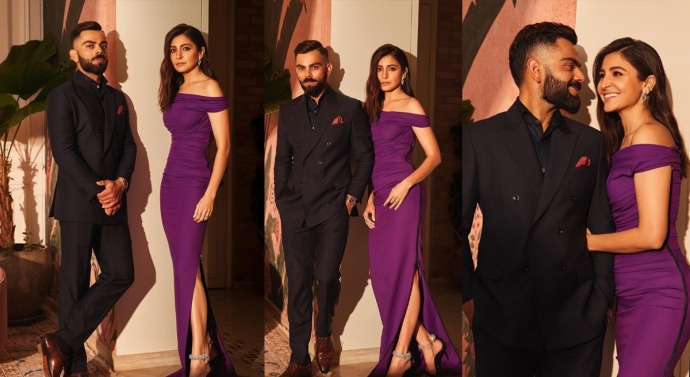 "In the words of Kahlil Gibran 'For in truth it is life that gives unto life- while you, who deem yourself a giver, are but a witness'. With this sentiment in mind, we have decided to work together through SeVVA aiming to reach out to as many people as possible.
"SeVVA's work won't be confined to a particular issue as it will continue to strive for social good by championing humanity which is the need of the hour today," the star couple said.