Half sisters Janhvi Kapoor and Khushi Kapoor and cousin Rhea Kapoor have sent Anshula Kapoor love as the latter wrote a heartbreaking note on her mom Mona Shourie Kapoor's 11th death anniversary. Mona was the first wife of filmmaker Boney Kapoor. She died of cancer, just months before her son Arjun Kapoor made his film debut. Arjun and Anshula are siblings. He too wrote a long note on Instagram.
Anshula Kapoor shared an adorable childhood picture with Mona and a snippet about 'grief' as she remembered Mona on Saturday. She wrote along with it, "11 years since I've felt your hug, since we've seen your smile, since I've held your hand. Every year when this day comes around, and we finish another year here without you.. it feels like the hole in my heart gets even larger. Can you feel me missing you? Because I miss you everyday. Love you to infinity and beyond."
The snippet was from a quote by Jess Denham and read: "One of many things about grief that isn't talked about enough is 'the double whammy'. How you feel two griefs and not one. There's your own grief. Missing them in your life. But the grief you feel *for them* – for everything they are missing and will miss – can be tough".
Janhvi Kapoor and Khushi Kapoor showered Anshula's post with several heart emoticons. They are the daughters of Boney's second wife, late actor Sridevi. Cousin Rhea Kapoor wrote, "Love you my anshu." Uncle and actor Sanjay Kapoor, Riddhima Kapoor and Bhumi Pednekar also sent her heart emoticons in the comments section. Sanjay also share a picture of Mona on his Instagram Stories and wrote, "You are always missed."
Arjun Kapoor also shared a picture with Mona and wrote, "I never cared what anyone said or felt cause I always had you In front of me to make me realise who & what I was… 11 years have passed since you become the shield that protects me from beyond but I still wish you were here because in this cruel world today I try & handle all the hate but I really miss your love which made me deal with everything with a smile on my face & made me a better person a happier person a calmer person perhaps maybe a more alive soul."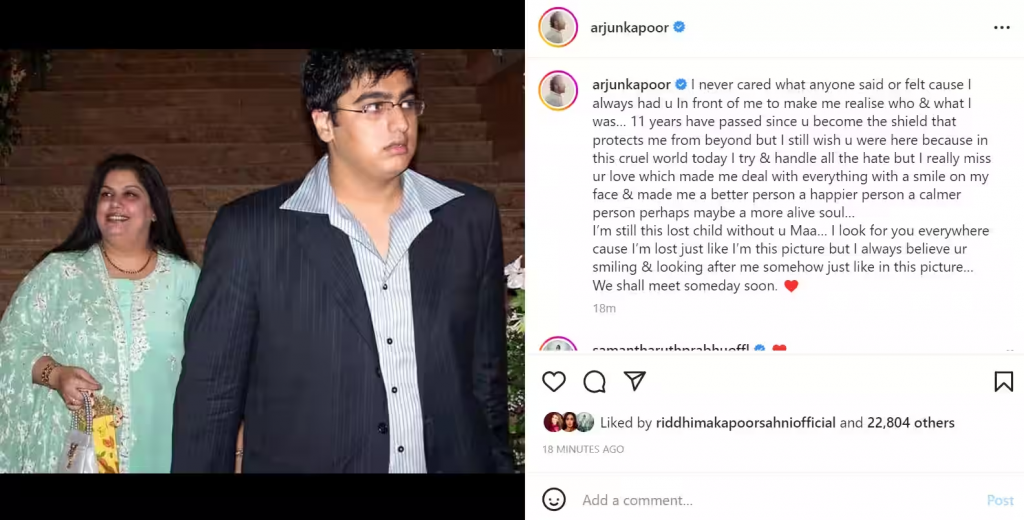 He went on to add, "I'm still this lost child without you Maa… I look for you everywhere cause I'm lost just like I'm this picture but I always believe you are smiling & looking after me somehow just like in this picture…We shall meet someday soon."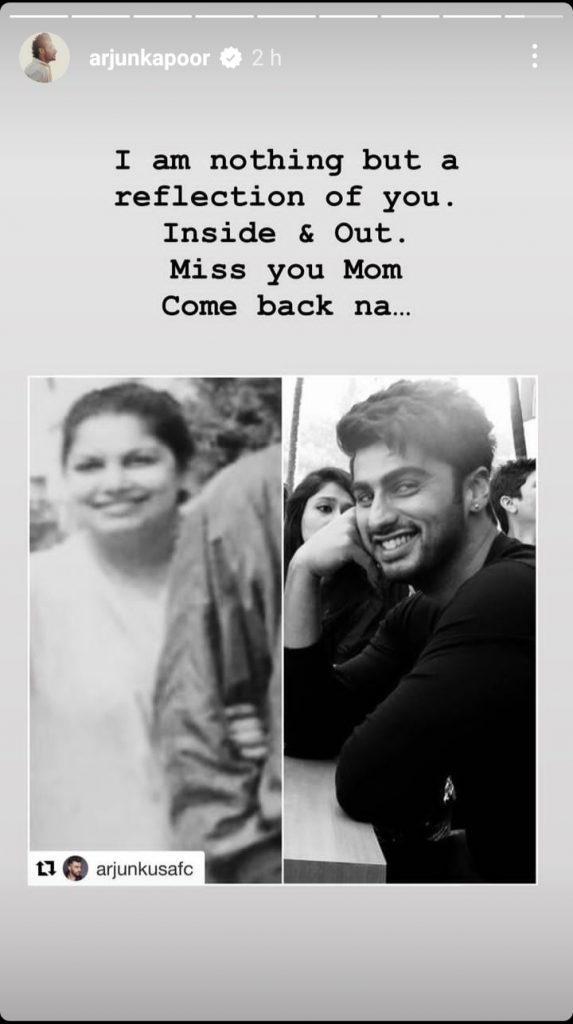 Arjun Kapoor also shared Anshula's post on his Instagram Stories. He also wrote a quote about a person with Cancer as the zodiac sign. It read: 'Being alone is a power very few can handle.' The actor had walked the red carpet Friday night with girlfriend Malaika Arora. He was in a shining purple suit while Malaika was in a backless black gown.