As a frantic race was underway to find more survivors and help the injured affected in the Turkey and Syria earthquake, Bollywood celebrities from Alia Bhatt to Priyanka Chopra, Rajkummar Rao to Shilpa Shetty took to social media to offer their prayers for those affected.
Priyanka Chopra late on Monday night re-shared a post by Time on her Instagram Stories. She wrote along with it, "Devastating. (broken heart emoji)."
RajKummar said on his Instagram Stories, "Turkey, Syria. You are in our prayers. (folded hands and broken heart emojis)."
Shilpa Shetty wrote on her Instagram Stories, "Sending prayers to all the people whose lives have been affected by the catastrophic earthquake in Turkey and Syria (folded hands emoji). May the souls of all the departed rest in peace (candle emoji)." She also added a flower bouquet emoji to her post.
Alia's mother-actor Soni Razdan also re-shared a post and wrote, "Just heartbroken (broken heart emoji). Prayers for Turkey (Turkey national flag and folded hands emojis)." She shared another post about a fourth earthquake of magnitude 5.6 hitting Turkey on Tuesday. Sharing a link to make donations, Soni wrote, "Please donate! It's easy…I just did."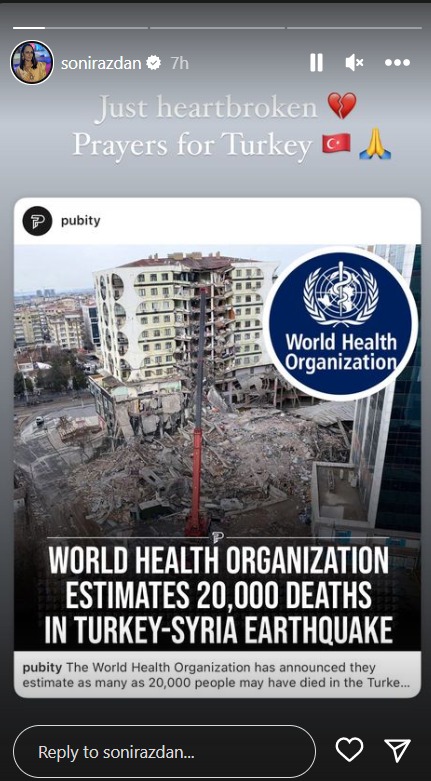 Alia Bhatt re-shared a post by Middle East Matters. She captioned it, "This is heartbreaking (broken heart emoji)."
As the death toll from the devastating earthquake passed 5,000, and multiple aftershocks reportedly hampered the rescue efforts, celebs took to their handles to offer prayers for the survivors and also offered their heartfelt condolences to the families of victims.
Turkey and Syria were hit by three consecutive devastating earthquakes of magnitude 7.8, 7.6, and 6.0 on Monday. The initial quake of 7.8-magnitude was followed by dozens of powerful aftershocks, including one recorded at 7.5 magnitudes in the same fault zone of south-central Turkey on Monday afternoon.
Most of the damage is in southern Turkey and northern and central Syria.The death toll in Turkey and in neighbouring Syria following powerful earthquakes on Monday rose to over 4,000, the Washington Post reported. It is the strongest earthquake to hit Turkey in more than a decade.
Thousands of emergency responders have been searching for people amid the rubble of collapsed buildings, and medical teams have been tending to the injured.An earthquake of magnitude 5.7 struck eastern Turkey on Tuesday, the European Mediterranean Seismological Centre (EMSC) said.