Nora and Raj Kumar Rao even interacted to media on the song launch event.
A media person asked Raj Kumar to comment on why he chose a remix song. He replied," This you need to ask to those who've made it. I'm not the composer but there are few songs which can be recreated. Ofcourse we all have heard the original version but the new generation have not heard it, so for them and to introduce this kind of music to them, it's important to sometimes re-create. Not every song can be recreated. There're few classics which should be left untouched."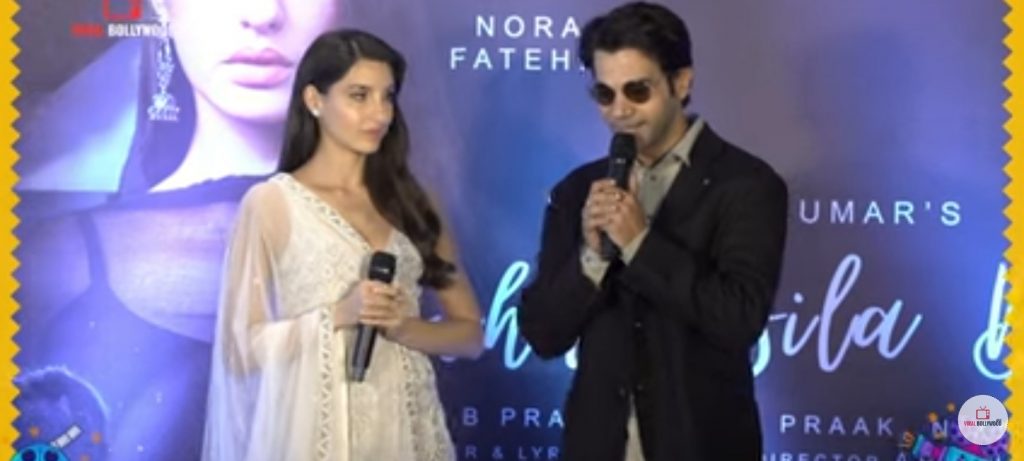 He spoke on his first reaction to this song," When I had first heard this song, so I had felt that this has been recreated very well. Few things they have sustained of the original song and few things they have improvised off, in this song. So this is a great fusion. I enjoyed listening to it and that's why I said yes to it."
Nora Fatehi was asked on her dance in this song and her black dress connection with Wednesday giving the vibes. She said," It's funny to say that as I was watching now I made that connection because I'm binge watching Wednesday at the moment."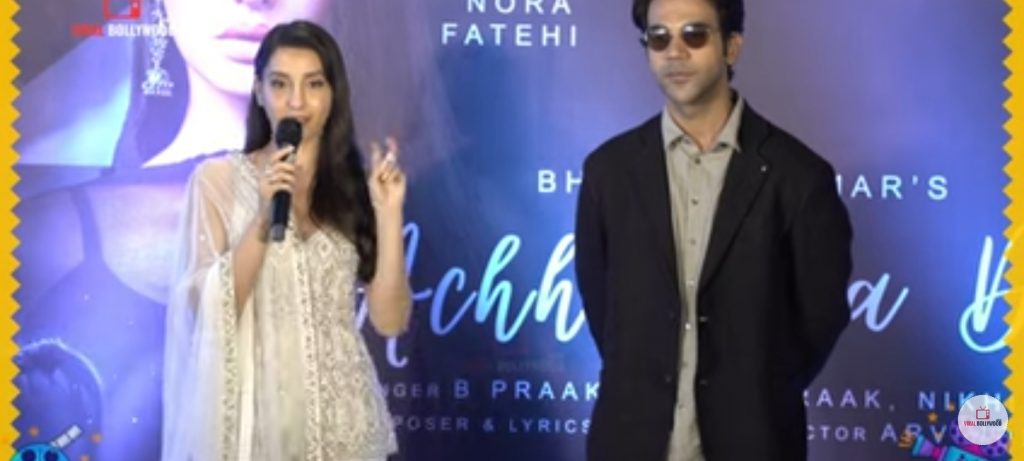 She denied taking any inspiration from Wednesday saying," No because we shot this in June so it's just a coincidence. It must be what's in now."
Nora and Raj Kumar was asked to speak on any real life instance when they were betrayed.
Raj Kumar took jibe on it saying," Nobody has ever took me to a drive and threw off mid-way and neither were such cars while growing up."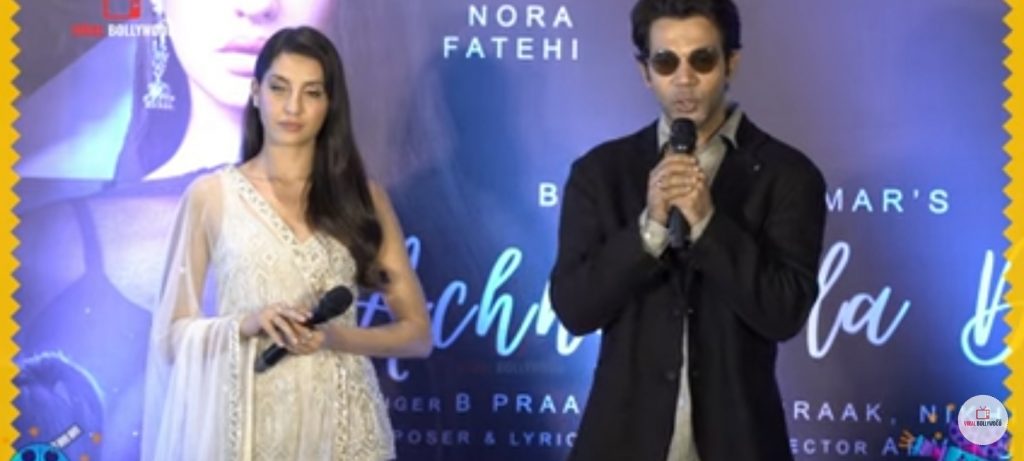 He further continued," Ofcourse everyone has faced situation in our life when either our hearts have been broken or we have broken somebody's heart. So I think this is very humane emotion that all of us face at some point or the other. It's not necessary to have faced such situations only in a case of a relationship of a boyfriend and a girlfriend. Otherwise too many times you are heartbroken. So the pain is same and that I have experienced many times."
Nora spoke on the same question," I can say one thing that in real life I'm not such a betraying girl. But I think it's so funny I think because most of the singles I think I play this kind of character who ditch a guy. In "Pachtaoge" I did that to Vicky and in this song I did that to him(Raj). But in real life I don't do this to guys at all."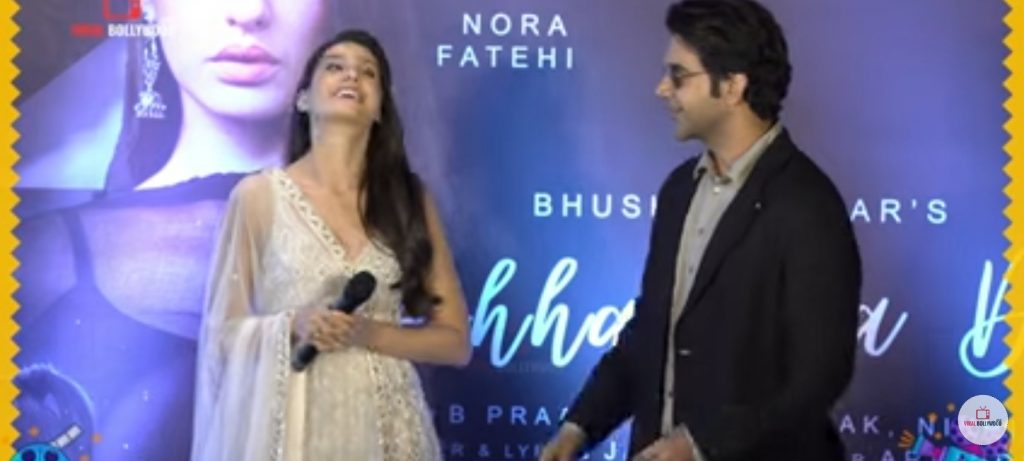 She added," But ya I have faced betrayal in my life. Thankfully nobody has chucked my car off the hill yet."
Raj Kumar Rao was asked on his preference on genre on songs which he loves doing. To this he responded," I love all kinds of songs. It depends how my mood is, there's no such specific genre. I love all kinds of music. And if I happen to like a particular song, I sing it on loop."
He spoke on his connect with music saying,"And music I feel is one of the most powerful art forms and music holds that power that can transport you to another space while you're sitting somewhere else.So I have a great connect with music. I listen to a lot of music, day in – day out."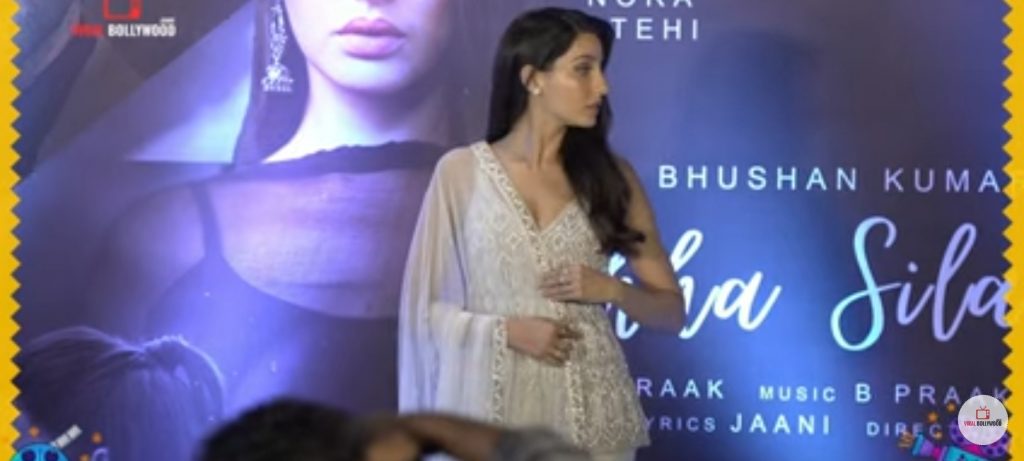 Raj Kumar was asked on difficulties he faced shooting for this song. He replied," Sir, for me it was like acting, the way we perform scenes. So for me it was the same process, thankfully there's no lip-sing. So I did the same way as I perform in my scenes. So it wasn't anything different for me."
Speaking about the director of his song,he said," Arvindr Khaira, who's our director, is a very talented director. He exactly had a clear vision about what he wanted and from where he needs the shot. We as an actor do what our director want us to."
Nora was asked about the qualities that she looks in her dream-man. She said," Is there anything as 'Dream-man'? He should be loyal. He should be hardworking. And he should love me definitely.