Kareena Kapoor's cousin Armaan Jain and his wife Anissa Malhotra Jain will soon become parents. Their family recently hosted a baby shower to celebrate with the couple before the child's arrival, which in due in the coming weeks, as per reports. From Kareena to Alia Bhatt and Neetu Kapoor, many family members joined the parents-to-be for the festivities. Tina Ambani and Navya Naveli Nanda were also seen posing with Armaan and family in a group photo.
In the photo, Armaan knelt on one knee as he posed with pregnant wife Anissa, who wore a bright blue saree. Kareena and Alia stood on her either side in the group photo taken during the day-time function. Kareena wore a light purple kurta set with heavy earrings, while Alia was seen in a blue and yellow ethnic look. Tina Ambani stood next to Alia in a pink outfit.
Kareena's aunt Reema Jain and cousin Nitasha Nanda was also seen in the group photo. Her niece, entrepreneur Navya Naveli Nanda, who is the daughter of Shweta Bachchan and Nikhil Nanda, as well as actor Neetu Kapoor were also part of the photo, and stood behind other guests. A white, pink and blue cake and white flower arrangements were seen in the photo.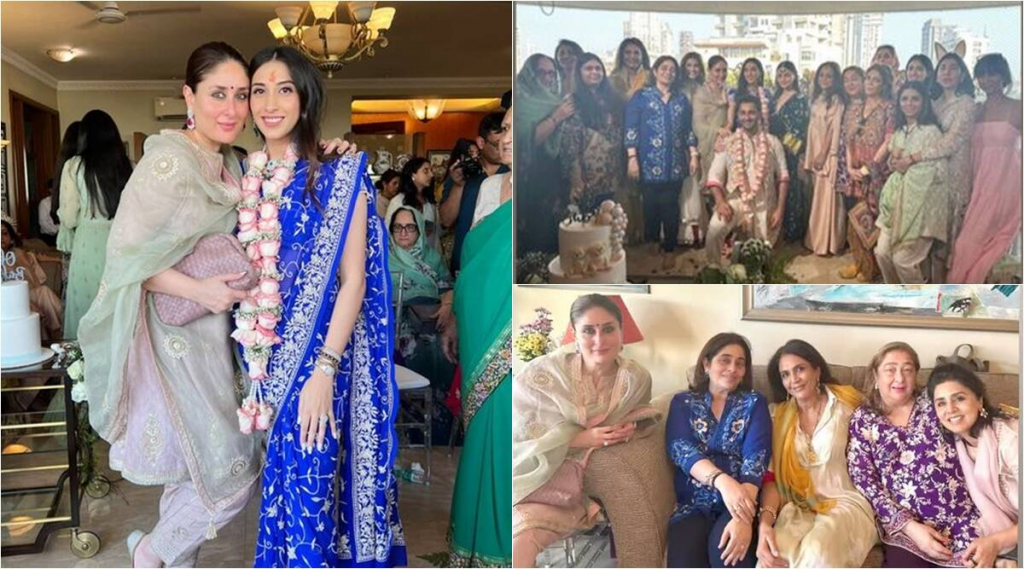 Photos and videos from Armaan and Anissa's recent celebrations were earlier shared by guests, including Kareena Kapoor. Sharing a photo with the mother-to-be, Kareena had taken to Instagram Stories to give a glimpse of the baby showers, and wrote along with a picture of herself and Anissa, "With the gorgeous mamma to be (red heart emoji)." Photos of the couple posing with family, including one with the parents, were also shared on social media.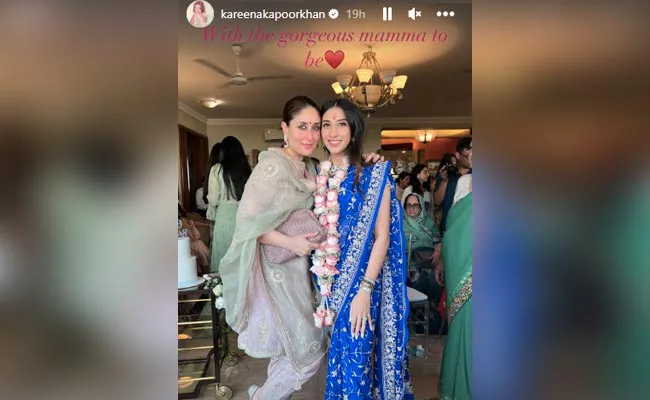 Armaan's cousin Riddhima Kapoor Sahni had also shared a picture of Anissa and Armaan on Instagram Stories, and written, "Happy Godh Bharai (baby shower) my cuties. Love you both."
Neetu Kapoor has also dropped snippets from the Godh Bharai ceremony on Instagram Stories. Sharing a picture with Rima Jain, Nitasha Nanda and Kareena Kapoor, Neetu Kapoor wrote, "Anissa Malhotra Jain, Godh Bharai. God Bless."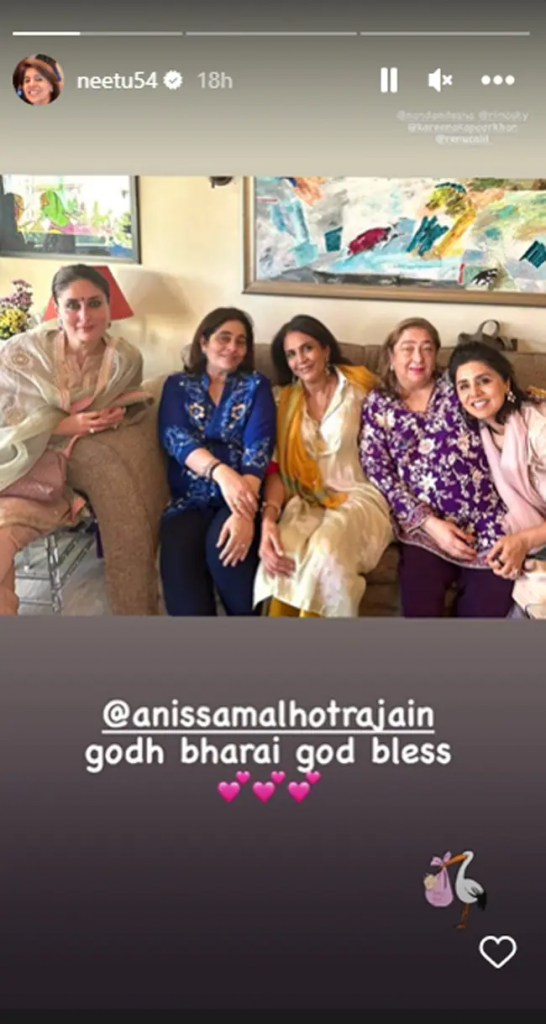 In the next pic, Neetu Kapoor and Tina Ambani are seen sitting on a couch with their friends. The text attached to the post read, "Godh Bharai". The actress has added a star-struck emoji to it.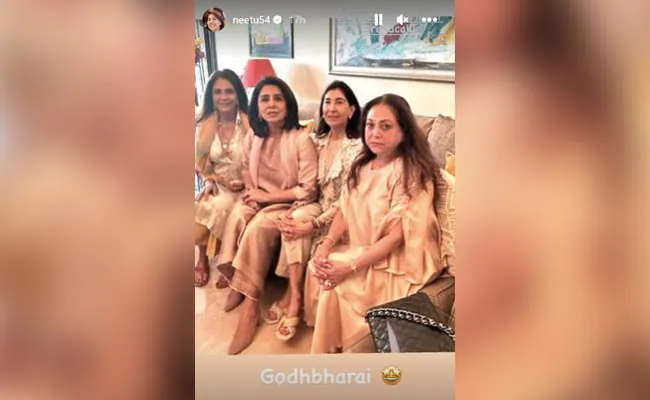 Wait, there is more. Actress Alia Bhatt was also part of the festivities. In the pictures shared by Nitasha Nanda on Instagram Stories, we can see Alia posing for the picture-perfect frame.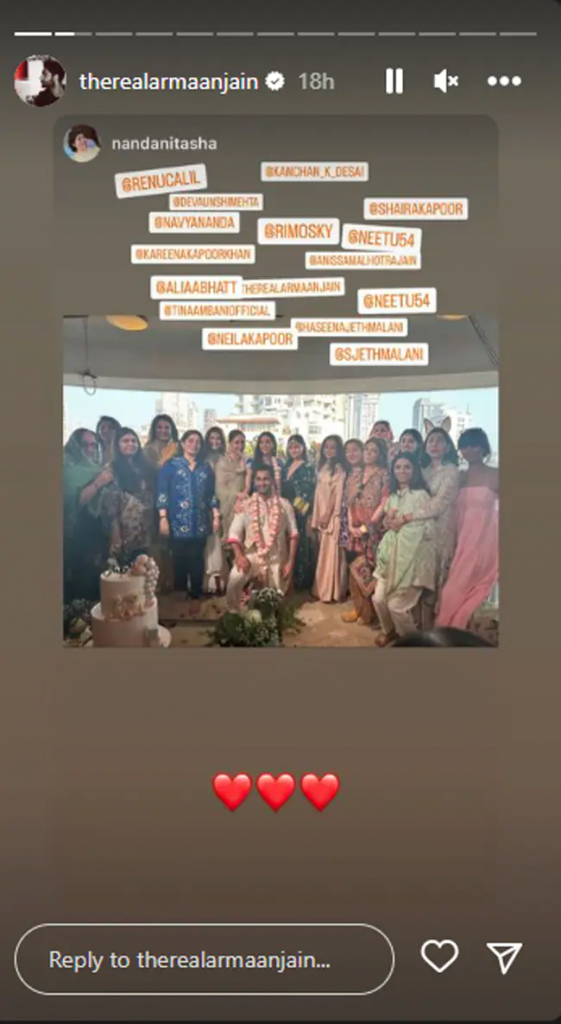 Armaan and Anissa married in February 2020. The star-studded guest list of the couple's Mumbai reception included Shah Rukh Khan, Gauri Khan, Rekha, Raveena Tandon, Amrita Arora and Kiara Advani among others. Kareena Kapoor, Alia Bhatt and Neetu Kapoor, along with other family members also attended the bash.