Alia Bhatt and Ranbir Kapoor were blessed with a baby girl on 7th November. The couple tied knot and became proud parents within a year of their marriage. Both of them are elated over this new change in their life.
Alia Bhatt took to her Instagram handle to reveal the name of her child "Raha", named by Neetu Kapoor. The couple shared their gratefulness over the name.
First time post the birth of the baby, Ranbir Kapoor was seen interacting with the media talking about his daughter at Red Sea International Film Festival in Jeddah, South Arabia.
On asked upon how the duo has planned to manage work and child growth, he replied," Well, first, it's beyond , it's a delight. You know, I never expected to feel this way. Raha completed her one month birthday yesterday. You know, me and Alia, discuss this often, you know, that what are the value system you want to pass on to your child. It's about empathy, it's about kindness, respecting your elders and equality. You know, you have so many different things that probably you have imbibed from your parents. But I think, the most important thing is to set an example, you know. It's to be these qualities to your child. I think a child learns more when they experience it. And as parents' you have to embody these, these emotions, these attributes of kindness, you've got to be these people and that's how the child will imbibe it. Where work is concerned, Alia and myself really value the time away from work . You know, I anyways don't work too much, She's way more busy that I'm. So we'll balance it out. When She takes work, probably I'll take a break. And when I take work, she'll take a break. But it's a very exciting time in our life, you know, we have been boyfriend-girlfriend a couple of years back and then we becom husband and wife and now became parents'. Just yesterday we were talking, just the word 'I have a daughter' it still has not hit me. You know because I have not said this enough, right now I'm in an interview so I'm saying 'my daughter' and when I say the work 'Daughter' , I'm like wow, what's this? There's stars in my brain, right now."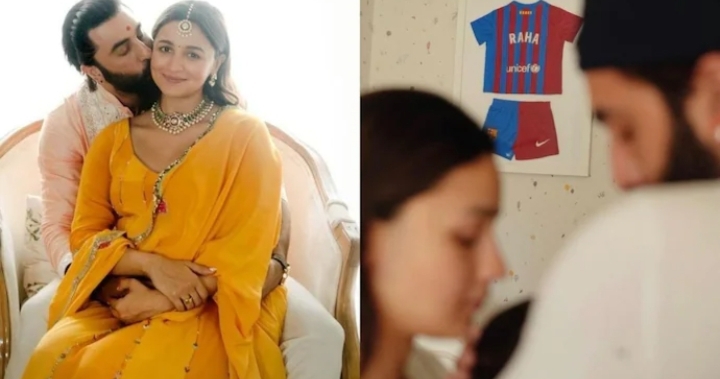 Ranbir was in a very candid mood. When asked about the difference in previous and current life, he responded," I'm wondering that why did I take so long? I should have become a father sooner, you know, my Biggest insecurities are like, when my children are like 20 or 21, and I'll be like 60. Will I be able to play football with them? Will I be able to run with them? But, like I mentioned, it's a delight, it's a joy that I have never experienced."
Ranbir looked extremely happy about parenting soon. He appeared at the film festival in his dapper look.