John Abraham was appreciated a lot for playing the role of Jim in the movie Pathan but he had to go through lot of physical training.
John Abraham was asked about this. To which he replied," The instructions were very simple, he has to be cool and he can't play villian like a villain. He has to he smart and intelligent and all credits to the director and writers for actually projecting the character."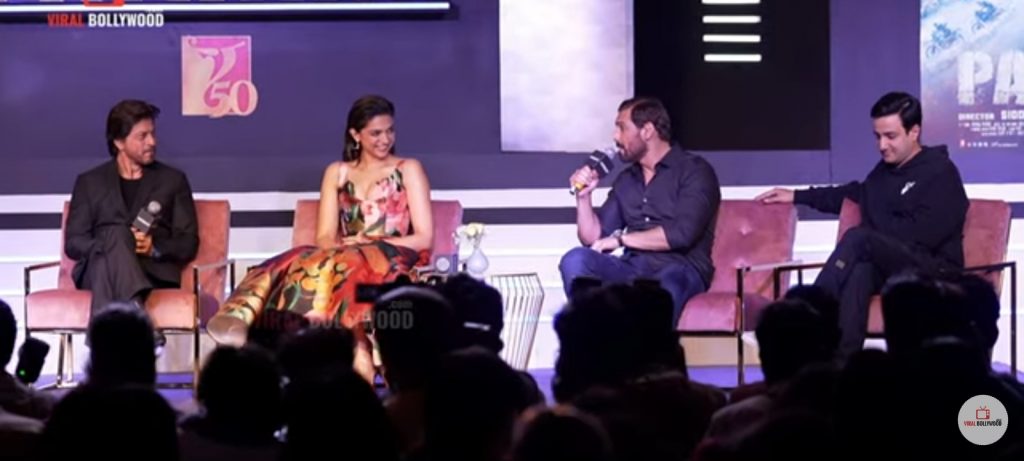 He added," Because I always believe an actor is like a horse and the director is like a Jockey. If you chase the horse into an opposite direction, it will run . So you're as good or bad as your director, that's what I believe honestly, unless it's Shah Rukh Khan"
He continued," I think Sidharth has done a fantastic job and I really thank you for projecting me so well."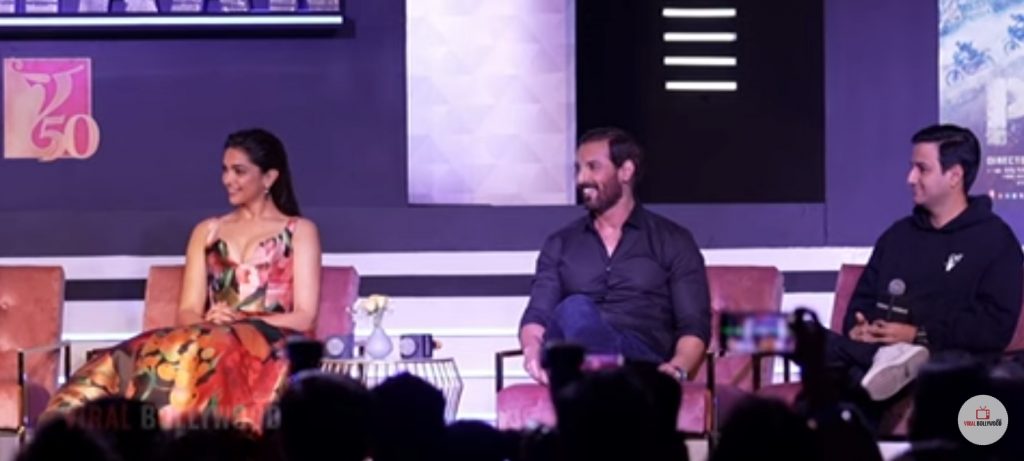 John was asked about rating Shah Rukh on action grounds and how's it doing fight scenes with John. He spoke," I'm actually surprised that why he's not the first action star because he's so good in action, so flexible."
He shared," With such confidence, he once told me to hit him and I said No. I said you're the National Treasure of the country, I can't hit you. Because I was scared that even if there's some slight contact also, there must be approx 100 crores Shah Rukh Khan fans (Laughed)."
He continued," But all in all he's fantastic in action and very very confident, Brilliant."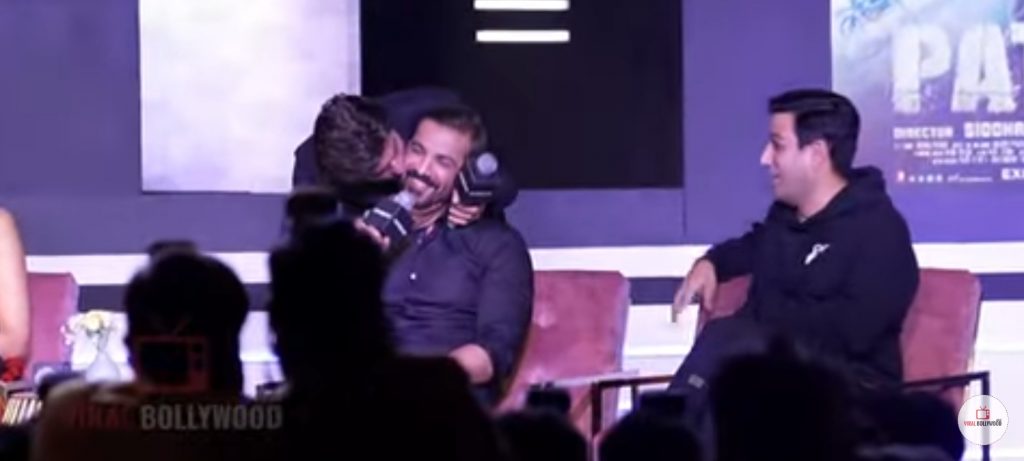 Deepika too added to it saying," You know this is actually one of the most underrated qualities about him. Action is like dance and it's all about choreography and it's all about precision and timing and you have to have presence of mind when you're doing it. He (SRK) does it so well . Ofcourse he does it in an action movie but he even does it when you're not doing an action movie. His presence of mind and his space and surrounding is such that all of us as actors have learnt from him."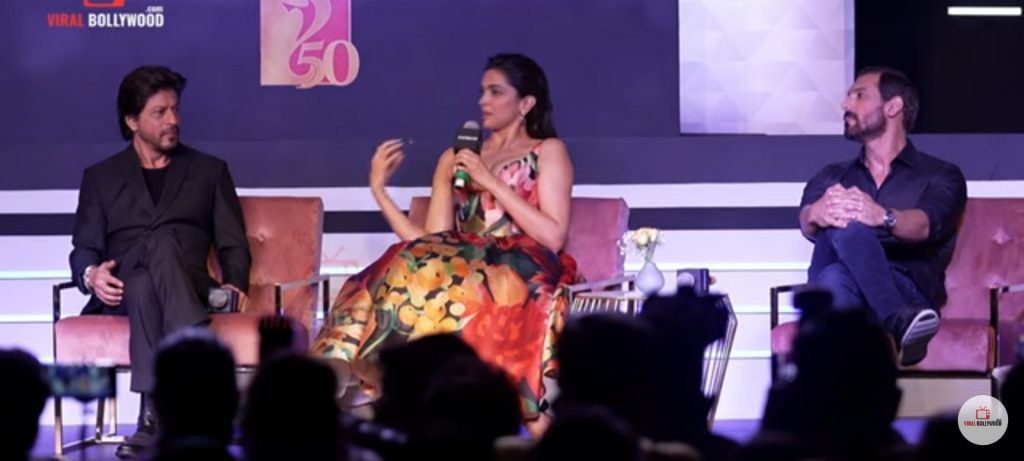 John spoke on the styling of his character in Pathan. He said," At first I would like to talk about my styling in Pathan of that white shorts that I had donned. It is Sidharth Anand's wife Mamta, she's styled me so Thank you Mamta."
He added," Even all the action directors who've worked with us are amazing and all of the action scenes that I and Shah Rukh had performed, it was lot of fun, so I want to give them credit for that. And the way even Shah Rukh and Deepika have been styled were outstanding."
Shah Rukh spoke about John and said," The best thing in Pathan and I genuinely believe that the backbone of Pathan is chatacter played of Jim by John." He joked saying," To take John in a movie, the expenses on clothing decreases."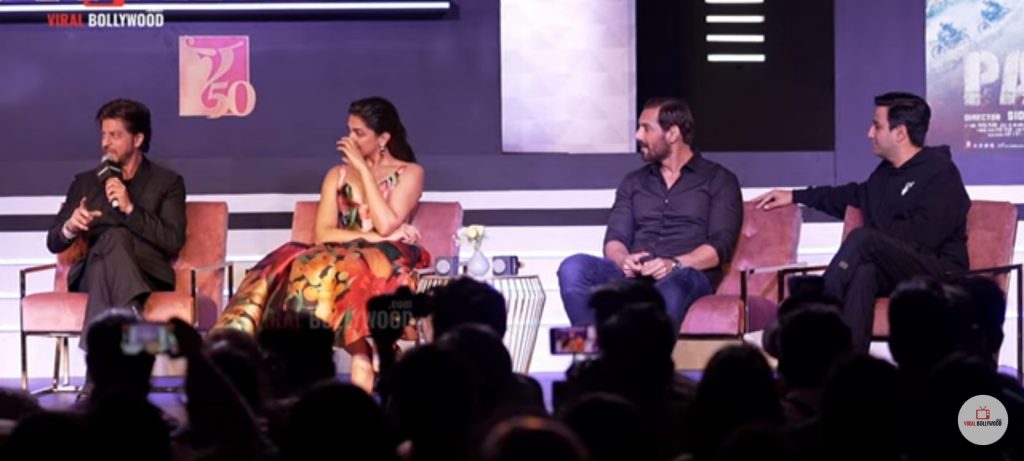 He added," To play a bad guy who's so normally and to be rightly bad and to just take silicale view point of the world and obviously the director, the writer and everybody has justified the character. But to play it with such strength and I just want to tell everybody that I know limited actions but in the motorcycle sequences, in the fight sequences he's been so gentle and kind with me."
He concluded," When he used to rehearse, I felt that he's trying to learn but later on I realised that he's trying to make me appear better. So I thank you from the bottom of my heart to be so kind to me."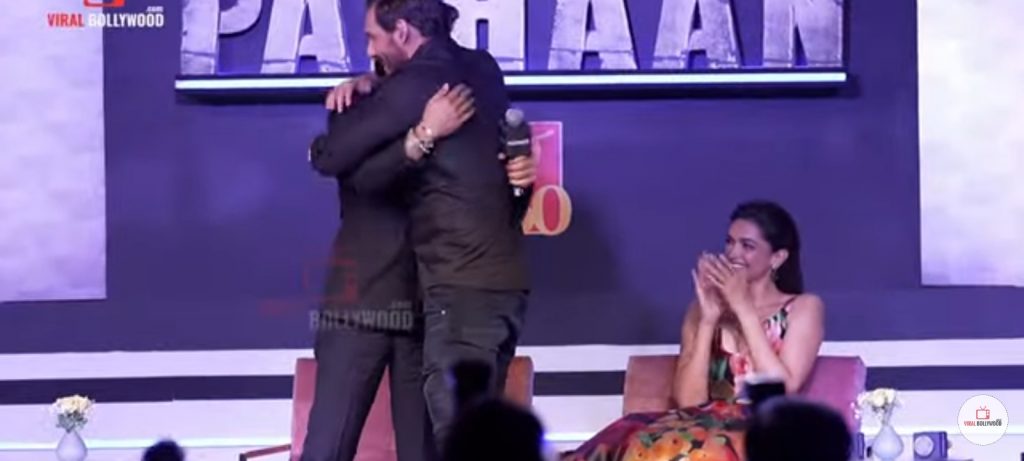 John got Emotion and went and hugged SRK.