After her dance performance on Naatu Naatu from the Telugu film RRR went viral, Hania Aamir has put up more videos of her dancing with other guests at her friend's wedding. The Pakistani actor, who was dressed in a gold sharara outfit and sneakers, also danced effortlessly to several other Indian songs including Bijlee Bijlee, Current Laga and Koi Mil Laga. Fans from both India and Pakistan commented on her post.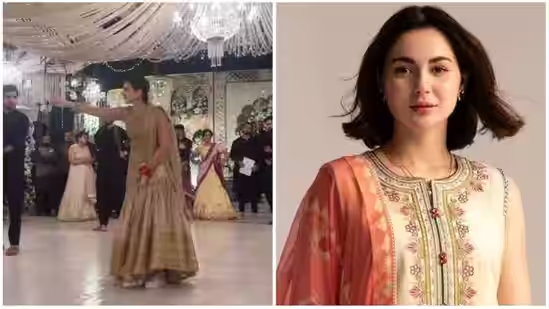 Sharing several photos of herself and the dance videos on Instagram, Hania wrote, "Shendi dump. shoutout to my fav dance partner @nayelwajahat (man dancing emoji)." The actor put up her viral dance to the Oscar-nominated Naatu Naatu first and also revealed new videos of herself dancing along with others to Harrdy Sandhu's song Bijlee Bijlee. She also danced to Current Laga from Cirkus starring Ranveer Singh, Neha Bhasin's Nai Jaana and Koi Mil Gaya from Kuch Kuch Hota Hai which featured Shah Rukh Khan, Kajol and Rani Mukerji.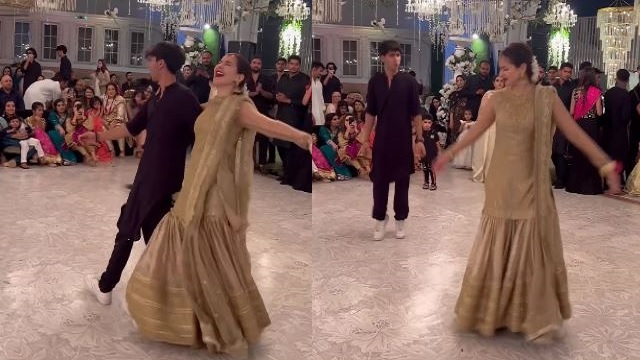 In Nai Jaana, Hania can be seen bringing the bride on the dance floor as well. In all the dances, Hania enthusiastically nails all the hook steps with ease. The actor was dressed in a gold sharara outfit which she paired with white sneakers. Her hair was tied back in a long braid and adorned with flowers.
Fans from both India and Pakistan commented on her dances at the wedding. Indian fans also shared the love from across the border. One fan shared, "Petition for hania aamir to be invited in every wedding." They also added, "YOURE THE LIFE OF THE PARTYYYY HANIA AAMIR." Another asked, "Why we don't have friend like Hania Aamir." Yet another fan commented, "The way Hania is enjoying is everything."
Hania has been acting in Urdu television and films since 2016. She is known for her work in the films Janaan (2016), Na Maloom Afraad 2 (2017), and Parwaaz Hai Junoon (2018). She was last seen in the film Parde Mein Rehne Do last year and is currently appearing in the series Mujhe Pyaar Hua Tha as Maheer.