Rakhi Sawant is once again making headlines owing to her personal life. The controversial queen who was earlier in the news for marrying businessman Ritesh Kumar has currently become the talk of the town after her alleged wedding with boyfriend Adil Khan Durrani surfaced on the web.
Since yesterday, a snap of Rakhi and Adil's marriage certificate has been doing the rounds of social media and reportedly the couple tied the knot in an intimate ceremony.
The couple got hitched as per Islamic rituals and a picture of their "Nikah Nama" (wedding certificate) is surfacing on social media. As per certificate, Rakhi and Adil's private nikah took place on May 29, 2022. She has now changed her name to 'Rakhi Sawant Fatima'.
Rakhi changed her religion and got married 7 months ago, in May, at her house in mumbai. However, Adil had asked her to keep their marriage hidden for sometime, but after 7 months she decided to make it viral.
Sharing a photo with her husband Adil on Instagram, Rakhi confirmed that they both got married in May.
The viral photo of the couple's 'Nikah Nama' is stirring up a lot of interest and discussion among fans and the media.
Rakhi Sawant, who has been in the entertainment industry for several years now, has been open about her wish to settle down and start a family with Adil. Fans and well wishers have been pouring in their congratulations and good wishes for the happy couple.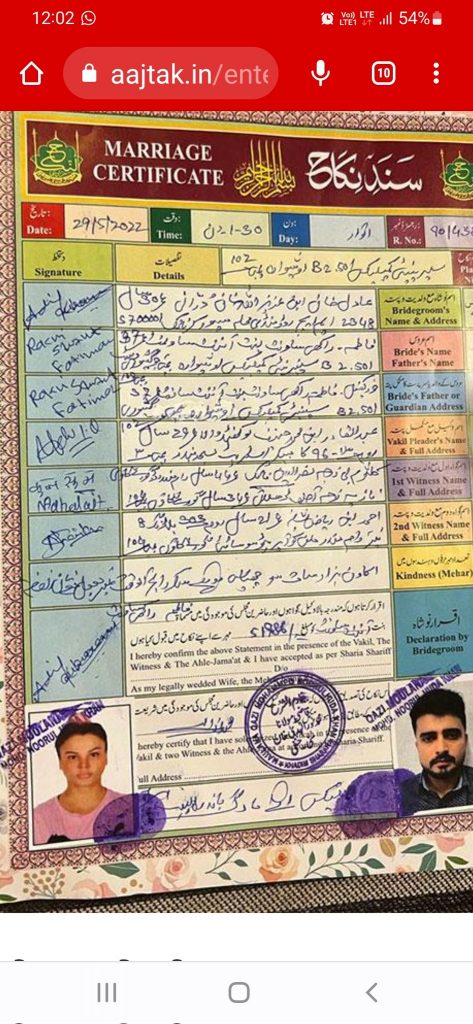 On the professional ground Rakhi Sawant has recently been one of the top five contestants of marathi bigg boss where she accepted 'money briefcase' and came out of the race of Top 3 contestants.
After coming out she thanked all her fans for giving her so much love for all her projects that she does.